Australian horseman Guy McLean: behind the scenes at the Royal Winter Fair
I learned about Guy McLean's visit to Toronto during the Royal Winter Fair and I just knew I had to meet this incredible man. Having known about his work previously, I felt there was such a tremendous message behind it, inspiring me to write a story and share it with the world.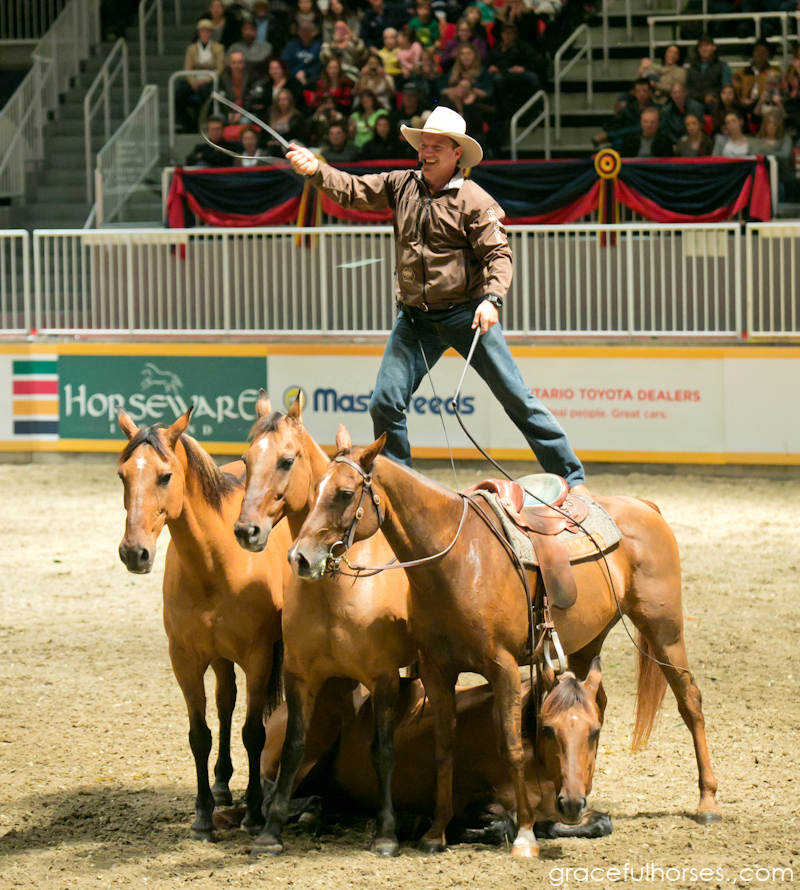 Guy McLean and his equine team's incredible performance at the Royal Winter Fair
I have had immense fun during the process. Guy's energy is amazing and the time spent around this humble and extremely grounded man was a privilege. Watching him perform in front of the Royal Winter Fair's crowds and seeing him shine around his fantastic horses truly was a breathtaking experience.
But Guy McLean has not always been this confident, outgoing and uniquely entertaining person he is today. As the youngest of five brothers, he had often felt small and somewhat overshadowed by some of his siblings' abilities. All were talented sportsmen, extremely good with their hands, so very useful with anything mechanical around the family farm. On the other hand, Guy was required to wear glasses from the age of five until he was fifteen. Ball sports were difficult for him and, as far as he was concerned, machines were only good for bringing the horses in so he could ride. Yet, whenever he found himself on the back of his beloved horses, this shy kid could find solace and feel at ease. While astride, he was faster than his schoolmates, stronger and braver than the meanest bullies. The horses were treating him as an equal.
"Horses have given me so much…whenever my brothers or kids in school saw me as this little guy with glasses, my horses saw me as important as anyone in the entire world and I thank them so dearly for that."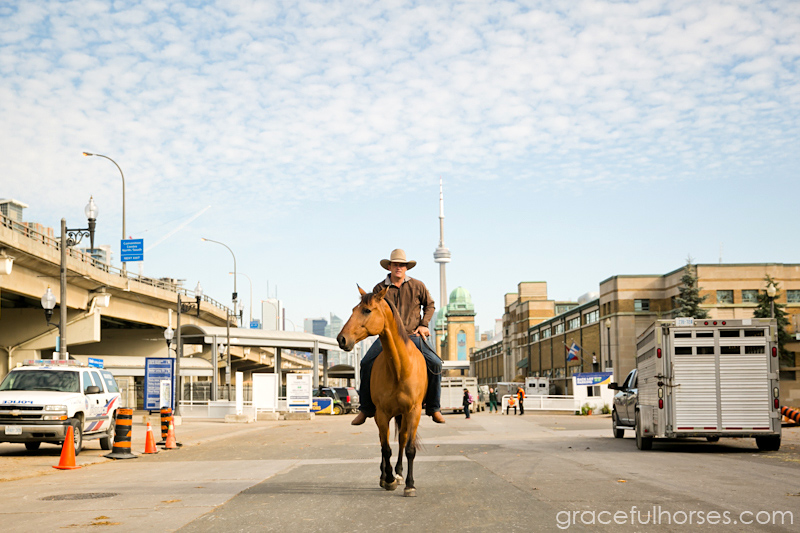 Guy McLean exercises horse Hope near the Royal Palace
"People say to me: when we see you ride, we do not see a man on a horse. We do not know where the horse starts and the human finishes. And that is how I feel."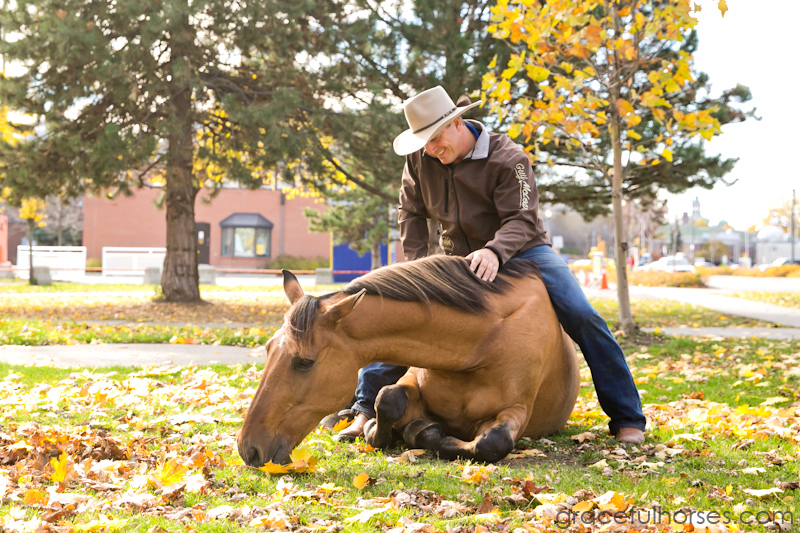 Guy McLean with horse Hope enjoy the grounds at the Royal Winter Fair
Asked if he considered himself a horse whisperer, Guy humbly responded:
"People believe a horse whisperer is someone with a natural talent, someone who, the moment they were born, would have this magical connection with horses. You can't call me a horse whisperer then, because I did not have that. I had a natural draw to them, I had a natural desire. It's taken me a whole lifetime to know what I know. I will not tell anyone that I was born knowing about horses. A connection is something that only happens when two beings reach out to each other, so I work very hard to do that. I would call myself a horseman and a horseman is someone who dedicates his life to these animals."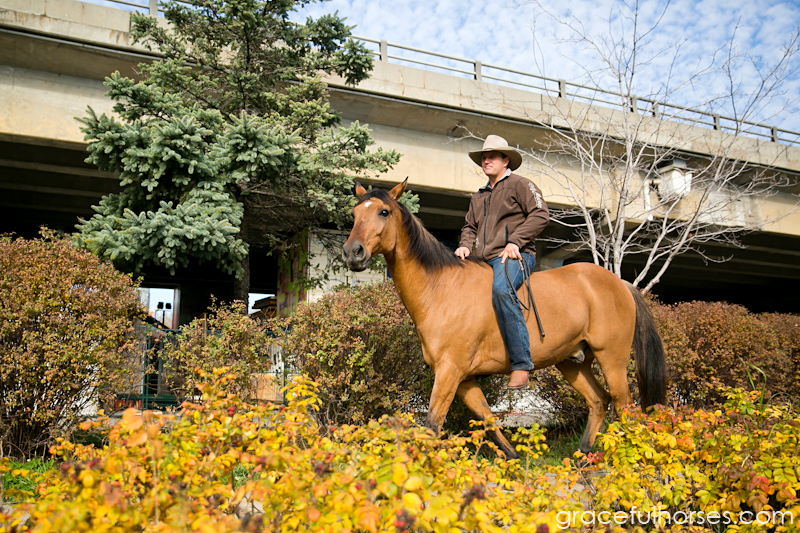 Guy McLean and horse Hope enjoy a warm November day in Toronto
Anecdote: while coming to the Royal one morning, I started to chat with the bus driver. One thing led to another and he ended up showing me a photo of Guy McLean and his horses he took with his phone and said: 'You gotta go see this guy!" The day before, the driver's son watched Guy McLean's show during a trip to the Royal Winter Fair his school has organized. The kids were deeply impressed with the performance and could not stop talking about it.
Amazed at this 'coincidence', I mentioned the episode to Guy and asked how he felt about the impact his work had on young individuals, given his own transformational process with horses.
"I think I probably get along with children and horses better than I do with a adults. I haven't really grown up. Even as my body gets older, I still am a real character, I am always playing and that's what horses are like: horses are exuberant, they are so connected to the world and children are too. They come into this world wanting everything and seeing this world as this flowing picture. As we get old we get jaded and we see it as something less."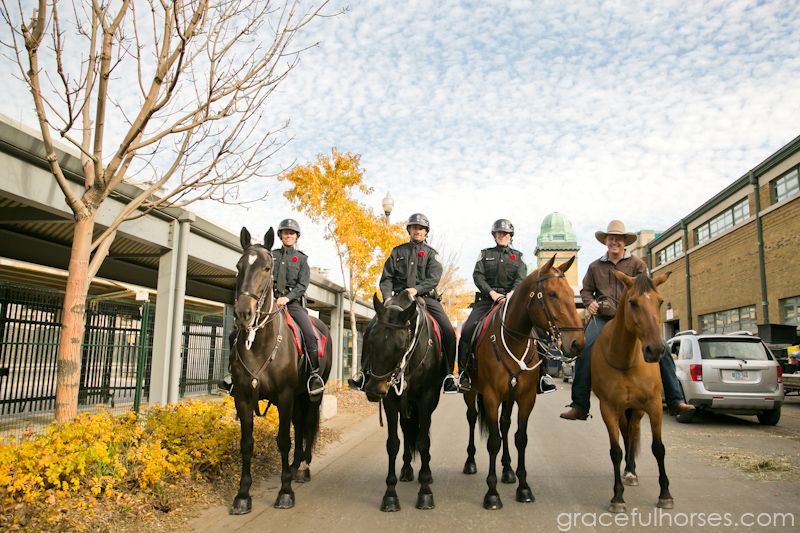 Guy McLean and mounted Police officers near the Royal Palace, Toronto
Having his own powerful journey as the best reference ever, Guy McLean hopes that he can help young people feel empowered and believe that they can truly be anything they desire.
"I want the children to see that, I want them to know they can have anything they want in life, to know that I am just a little boy from a tiny little town in Australia that is now traveling around the world with his beloved family."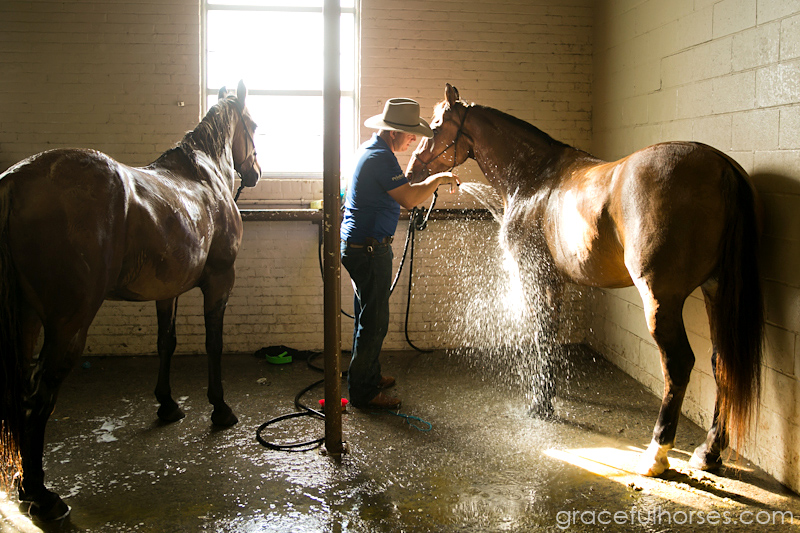 Horses Pride (left) and Sequel (right) get a good bath and they love every second of it
"People ask: what do you do for fun?
I say: I ride horses.
What do you do for a job?
I work with horses.
What do you do for holidays?
There is nowhere else I want to be but with my horses.
What would you do if you weren't with horses?
I can't imagine it. I was put on this Earth to be the voice for them and to show how wonderful they can be when we understand them."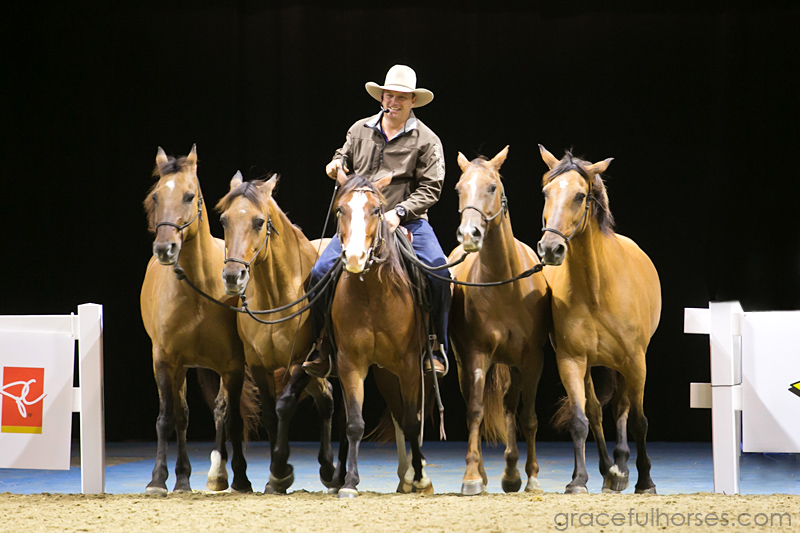 Guy McLean's incredible team, from left to right:
– Sequel, 13 yr old Golden Dun gelding. Honest and obedient.
– Pride, 9 yr old Golden Dun mare. Solid at liberty work.
– Lightning, 3 yr old gelding (Quarter horse/ Thoroughbred). Started at the Horse World Expo in Feb 2014, in front of 700 people
– Spinabbey, 11 yr old Liver Chestnut Australian Stockhorse gelding. "To ride Spinnabbey is to feel like you can fly"
– Hope, 13 yr old Golden Dun gelding, the oldest son of Guy McLean's famous Stallion, Nugget. Hope is honest, reliable and true to the end.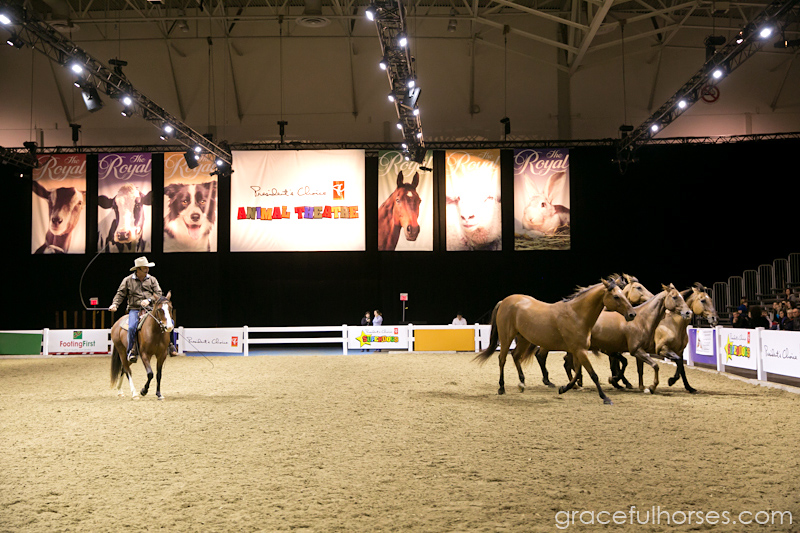 Guy McLean believes in working with horses at liberty
Guy McLean has always believed in working with horses at liberty. To him, it is the hardest yet the only way for the real connection to be established and for the animal to follow willingly.
"You can think that you have them when you ride them in bridle and saddle, you can think that they're doing it for you and that they love and respect you. You take that gear off and you know. The liberty became a real proving ground for me."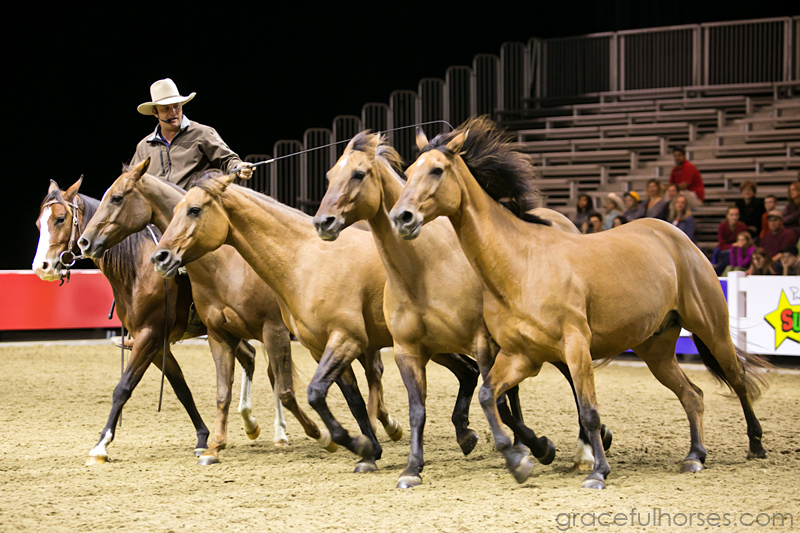 Guy McLean and his superb equine team during their performance at the Royal Winter Fair
Mr McLean puts on an amazing performance in front of large crowds. He feels this is the best way to have his message shared and inspire humans to get better at interacting with their horses.
"I have other goals now…if I do clinics back in Australia, these horses aren't been seen…and to have these incredible animals in the prime of their lives and for the world not to see them would be an extreme waste."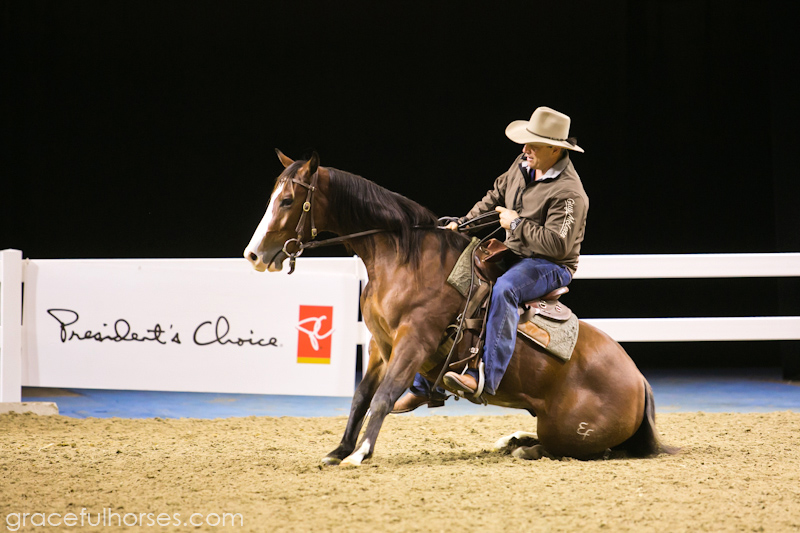 Guy McLean on horse Lightning perform at the Royal Winter Fair
After seeing Mr McLean perform and feeling the energy in the crowd, I could not agree more with the way he regards what he does. He is one of those human beings with an important mission, one that can initiate a deep shift. The world needs him.
"If I go into an arena in front of 10,000 people and even if 1% of that goes home and tries to be better for their horses, I am doing better than working one on one with 10 people with horse problems."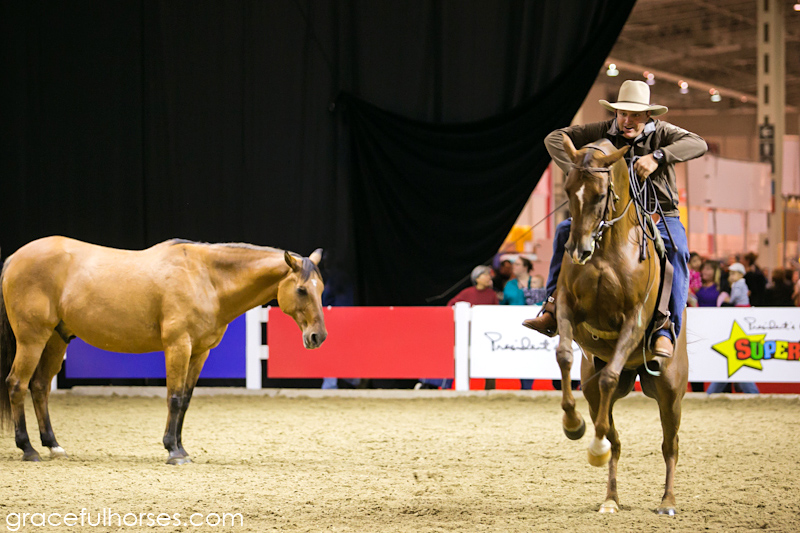 Guy McLean on amazing horse Spinabbey performs at the Royal Winter Fair
How does Guy McLean's future look like?
"I want to continue to improve my craft and then I want to show everyone what a life dedicated to horses looks like."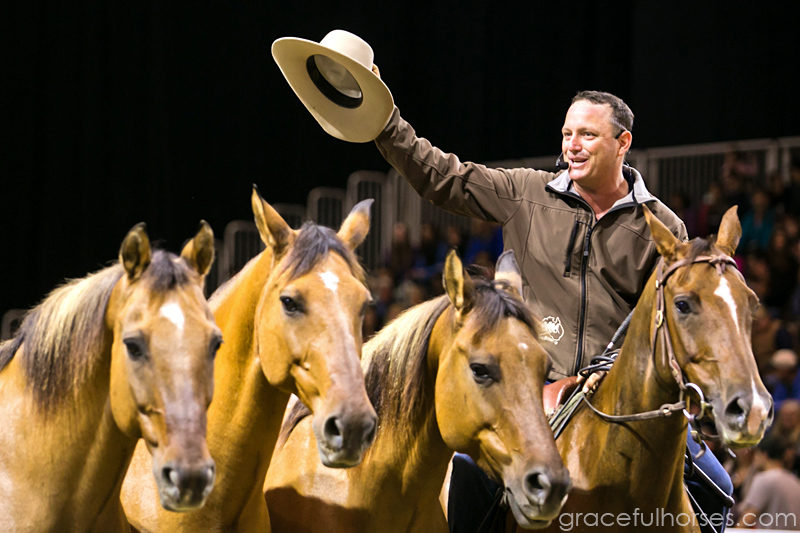 Guy McLean greets the crowds while they give him ovations at the Royal Winter Fair
Thank you Guy McLean for your time and for having opened your world to me.