Gypsy Vanner horses, Bernese mountain dogs and Havanese puppies
A couple of months ago I started playing with the idea of getting a puppy. I did not know much about breeds, so I researched a few, with a preference for small, non shedding dogs.  I stumbled upon the Havanese: a fluffy, extremely cute and friendly breed originating from Havana, Cuba and known to entertain the local aristocracy in the old days. Did they have them in Ontario, I wondered? The Internet search returned a few results and one of them caught my eye: Pieternella Moor's farm.
Not only she bred the Havanese, but she had stunning Bernese mountain dogs and even three Gypsy Vanner horses on her property!
Needless to say, my trip up and our visit a while back were a true delight! I had the pleasure to hang out with Pieternella's animals, learn about her amazing work, while getting to know her as a person. It was simply rejuvenating and inspiring to meet a wonderful, passionate, dedicated and humble human being who loves her furry friends from the bottom of her heart.
And their connection made many of the images below.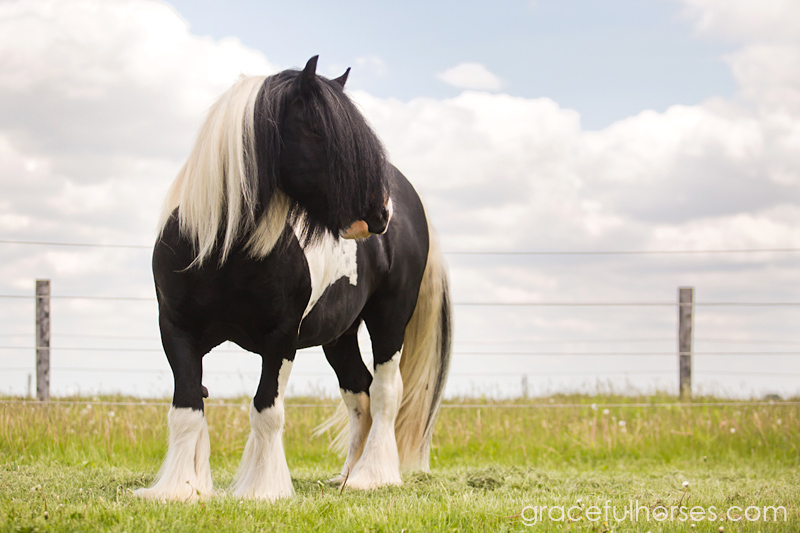 Jella, a gorgeous Gypsy Vanner stallion, was brought from the Netherlands at 6 months old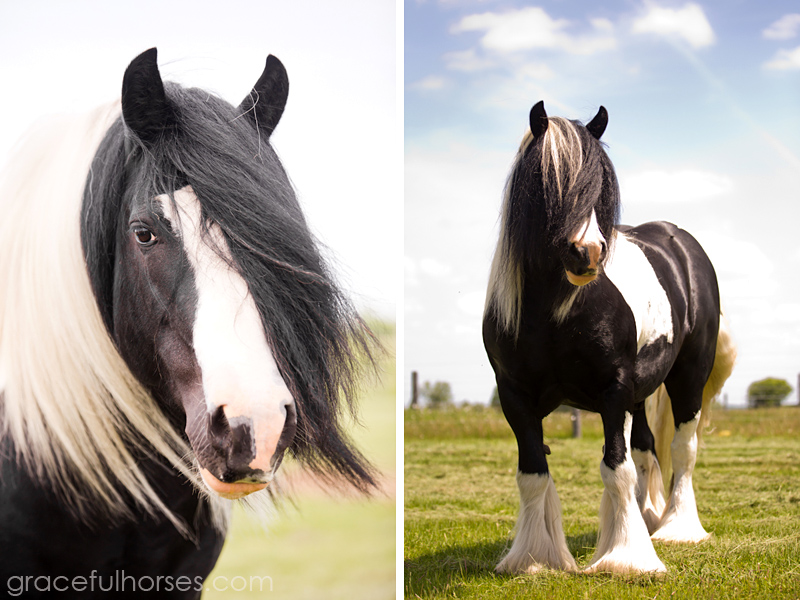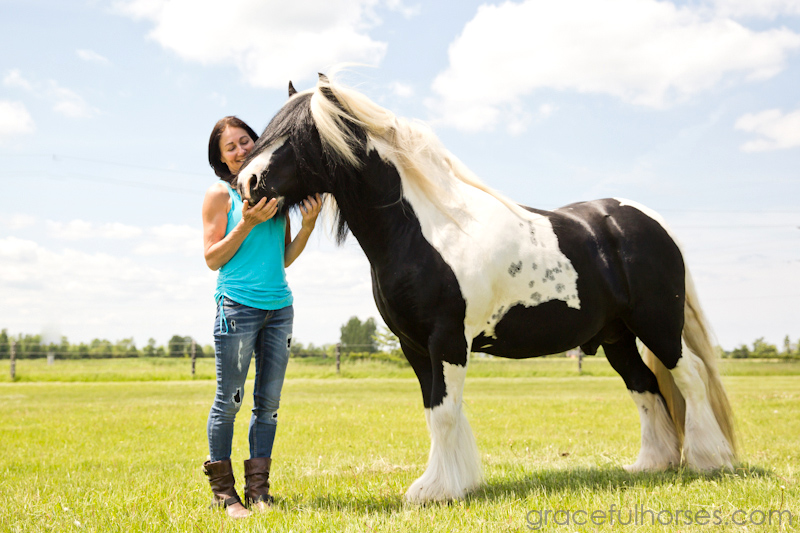 Currently retired, the once breeding stallion is now enjoying a peaceful, horsey life in the pasture, with Pieternella's visits
"As a child I had a passion for all animals, I always enjoyed spending time with them. I would often find stray or injured dogs, birds, cats, wild rabbits, etc and  bring them home…these where my best friends. I often begged my mom to allow me to keep them. She would always say no…"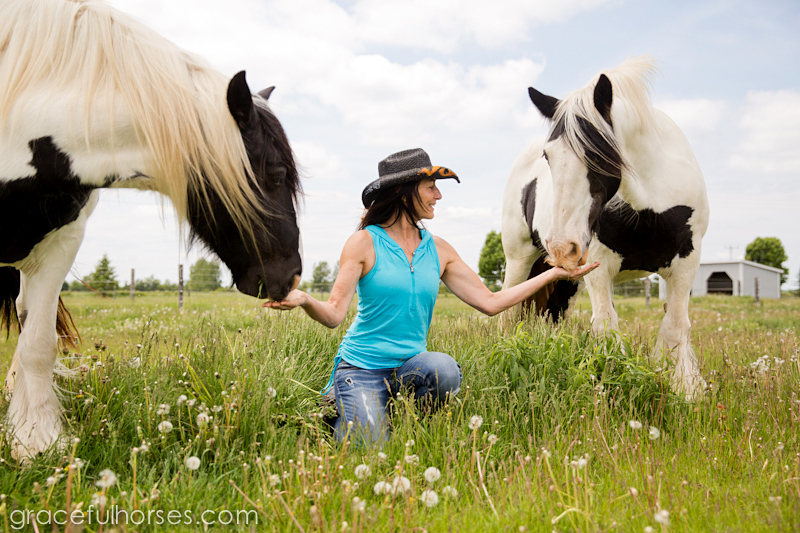 Pieternella with her daughter's lovely Gypsy Vanner mares: Dream (left, imported from England) and Shireen (right, imported from Germany)
Even though little Pieternella was not allowed to keep any of the animals she was bringing in, she did not stop trying…
One day, a neighbour suggested to her mom that allowing Pieternella to have a furry friend of her own may put an end to her constant attempts to save them all…
As a result, a dog named Happy came into Pieternella's life when she was 9 yrs old and they have been together for 16 years. They became best buddies and, whenever Pieternella was not assisting with house chores, she and Happy would be off helping the local farmers milk cows, playing with the goats, hiking through the farmers' fields or catching tadpoles and frogs.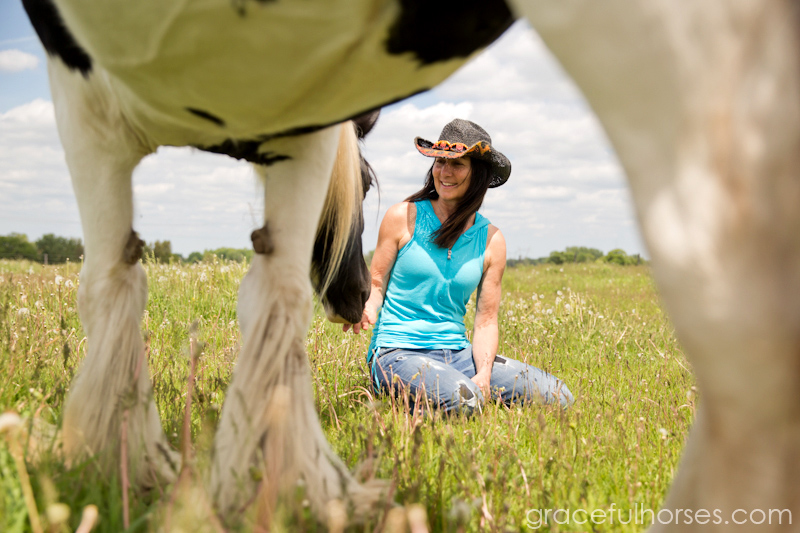 A few years ago, Pieternella's daughter Sherry, an avid animal lover herself, decided to breed Gypsy Vanner horses. She had traveled the world to learn more about this breed and later on, accompanied by her mother, had attended the Appleby Fair in England to find the gypsies and their stunning horses.
Sherry brought back two beautiful, kind and gentle mares: Dream and Shireen (whom she currently still owns) and later, together with her mom, went for a gorgeous addition: Jella, the stallion.
Not bred any longer, these three gorgeous horses hang out happily and freely in the pasture, enjoying their lives.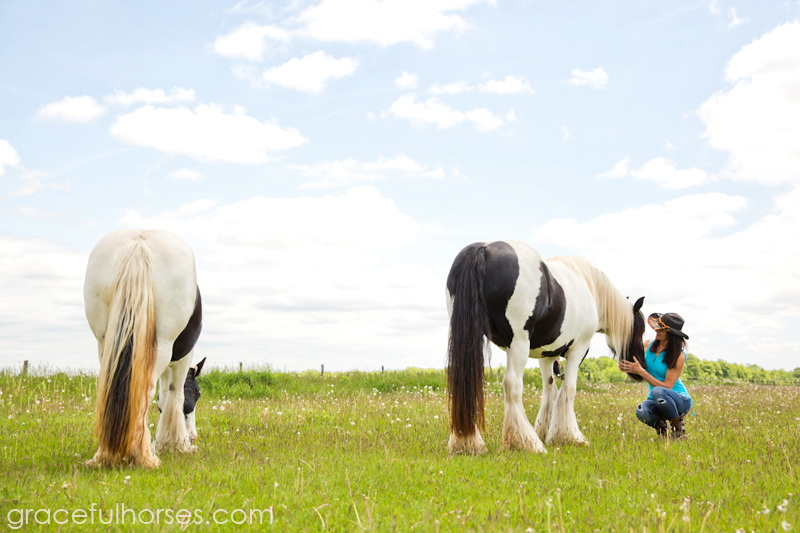 After having bred a few golden retrievers, Pieternella's daughter, Sherry, introduced her to the wonderful Bernese mountain dogs about 15 years ago. Pieternella fell in love with them and decided to focus on this breed. Bernese dogs are prone to many health issues. Passionate and knowledgeable, Pieternella had searched worldwide for lines to help reduce some of the problems and to achieve a look closest to the original: strong, stocky, thick boned. So she went all the way to Europe!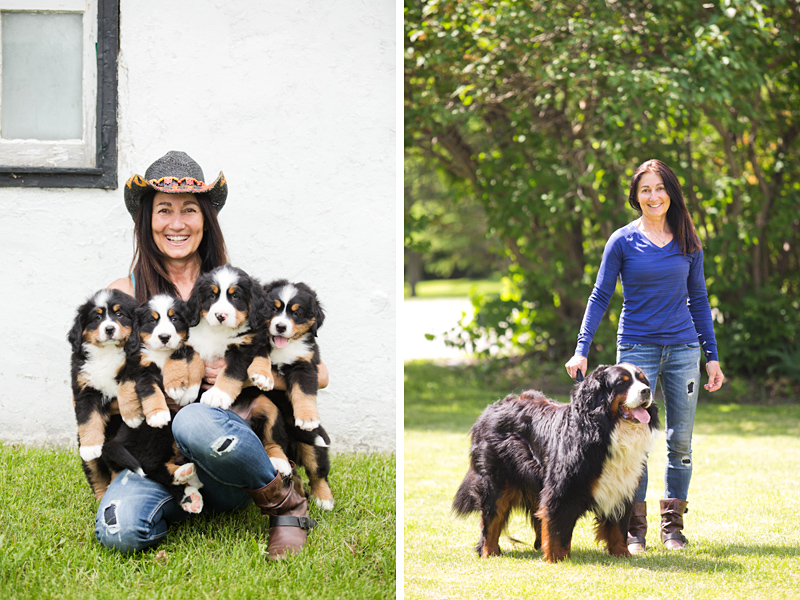 Pieternella walking Jacqueena (right) and cuddling with Jacqueena's puppies (left)
"My R. N. skills help me look after my dogs with the greatest care. I get a lot of joy out of making so many families happy by offering them a loyal, loving, protecting, powerful and of course, absolutely stunning dog. These animals are therapeutic!"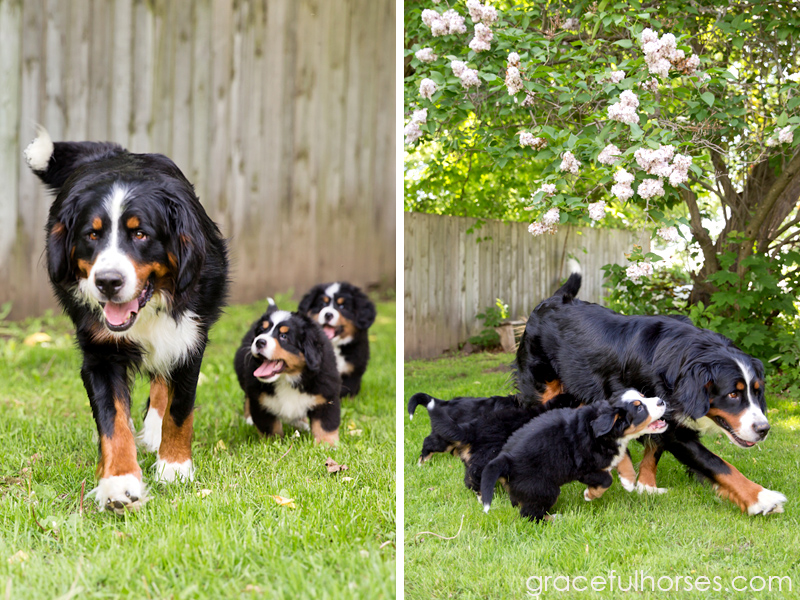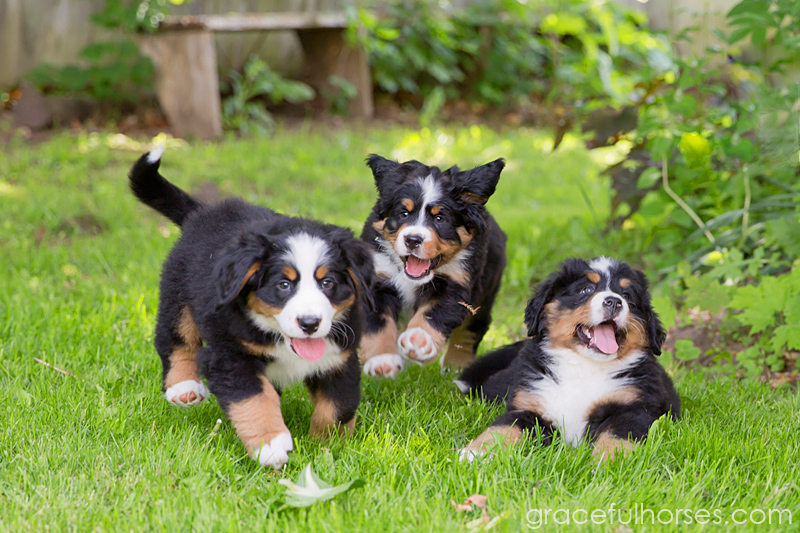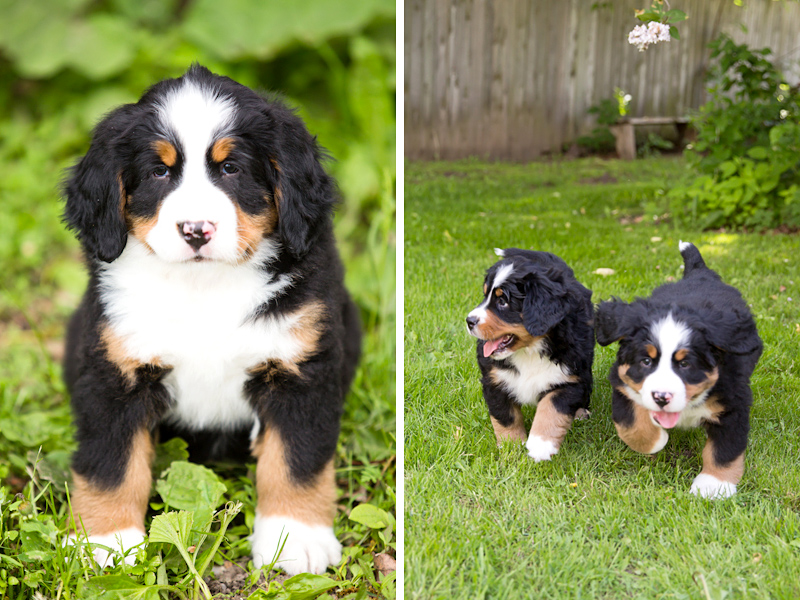 As a vet technologist, Pieternella's daughter Sherry (a passionate dog breeder herself) had the chance to learn about the Havanese dogs and suggested this breed to her mother. After researching it for about a year, Pieternella concluded the Havanese had many of the Bernese qualities, just in a smaller body. Excited about this discovery, she decided to try them out. And I have to say, with amazing results. These puppies are nothing short of deliciously sweet! Even with a very busy schedule, I may not be able to stay away from getting one myself! 🙂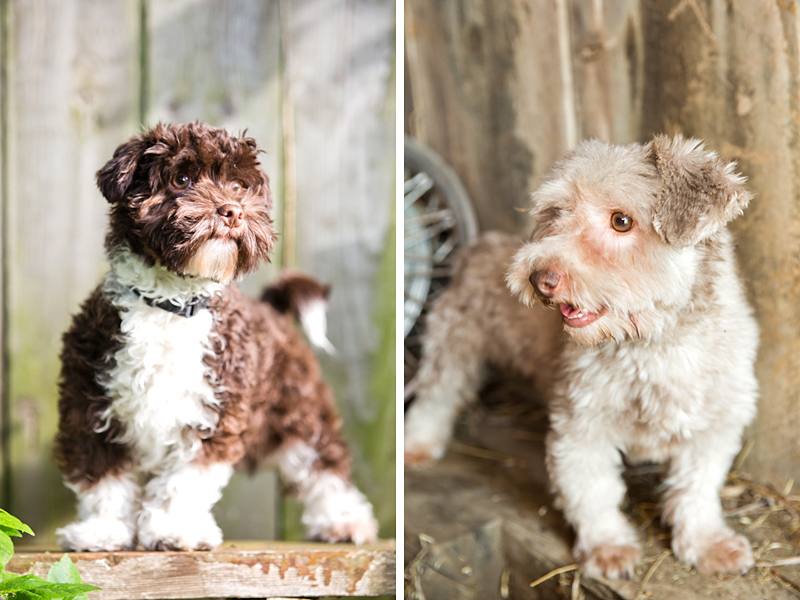 "Havanese dogs have an amazing personality: they are sweet, loveable, and thrive on human interaction. They love to cuddle in people's laps but also have lots of energy to run in the yard at full speed. They love children, are playful, can do amazing flips. They will also warn their owner whenever a stranger is outside their door…
The Havanese can be well placed in families with younger children as well as with retirees ( where the Bernese breed is not suited)"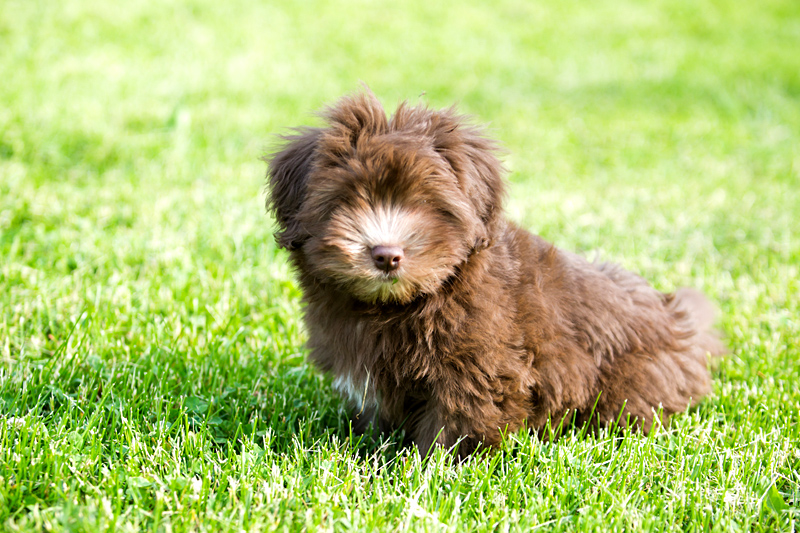 If you want to get a lovely, carefully bred, big or smaller dog from a true expert, go see what Pieternella has to offer.
Enjoy some wonderful images of the Bernese and Havanese on her dedicated websites:
www.moorsbernese.com
www.moorshavanese.com
If you find your beloved puppy as a result of reading this story, please mention it to Pieternella. She will be delighted!